Products and Solutions for Critical Facilities and
Building Management
Equipment and assets in Facilities and buildings provide essential services. Proper and regular maintenance are needed for optimum operation and to avoid or minimise downtime. Our range of Automation hardware to help facility managers automate and manage efficiently with timely information and alarm notification.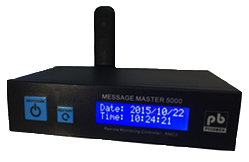 Message Master 5000
Product Description
Message Master 5000 is a comprehensive and improved model from its predecessor yet maintains its simplicity, reliability, scalability, quality and ease of use. One of its new features is the capability of receiving and transmiting high level signals from equipment via Modbus RTU,Modbus TCP and SNMP protocols. A trend logging feature was added to help users identify potential efficiency problems on their equipment or even in the whole facility. Its SMS alert sending was improved using 3G network and E-mail alert sending through mobile data which makes it more efficient standalone monitoring system.
Product Features
Absolutely no programming or technical knowledge is required to use this system. Any computer can access its HTML web-based control panel using Internet Explorer, Mozilla Firefox, Google Chrome, etc.
Although Message Master 5000 is rich and complete in functionality and performance, configuring it to user specific requirement is a breeze.
Flexible User configuration
Configurable easily with any local or remote computer. Only authorized with the correct user ID and password can access Message Master 5000.
Not only Message Master 5000 can be connected to any computer in the local area network (LAN) environment, it can also be easily setup for remote access and control over the Internet.
Message Master 5000 only need to connect to the equipments to be monitored. No PC or server is required. The PC is needed only for configuring its operating parameters and for viewing the status of the equipments. Network ready
Additional Input-Output expansion boxes, temperature monitoring, industrial controllers, even third party software can communicate with it via standard Modbus RTU/TCP/IP protocol.
Microcontroller based design
It is not a PC hardware and does not contain moving parts like hard disk, CD-ROM drive that can affect its reliability.
Because it does not consume much power, Message Master 5000 does not generate heat and will run for 24 hours without worries of breaking down. In the event of incoming power failure, it can operate for hours on a small capacity lead acid battery / power supply unit.
The dimension is 125(l) x 38(w) x 100 (d) mm and weight a mere 480 grams, it can be fitted into any chassis or equipment cabinet or be obscurely installed in any corner of the equipment room.
If enabled, when an alarm is triggered, the SMS will be sent to the operation and forward group repetitively at the interval specified during software configuration. To cancel repeat sending, any mobile phone from the operation or forward group must acknowledge to MM5000 by replying the acknowledge command. Once MM5K received the acknowledgement command it will stop sending further SMS for this trigger.
The "Auto Health Check" message allows user to check, via SMS or enable to auto check that the MM5000 unit is functioning properly: If "enable" is checked, MM5000 will send a SMS message on scheduled system date and time. If the auto health check is not enable, user still can perform manual health check by sending a SMS health check command.
Re-assigning of operation personnel, a change of mobile phone number is also common. Rather than having to physically go to the installation site with a notebook computer, the authorized personnel can perform the change from anywhere using their mobile phone. Where there are many installed sites, distance or time is a concern, this becomes very efficient.